Getting your home ready for the market can be one of the more daunting tasks required in selling.
There is so much to do; it can be difficult to know where to start first and what's most important to tackle. To present your home in the best light possible, routine household cleaning and these tips will make your home shine to buyers.
Declutter Every Room
The accumulation of stuff over the years may not look crowded to you, but potential buyers need to be able to see the home without all the distractions. Typically, the rule of thumb is that sellers need to remove about half of their belongings to reach the "decluttered" point attractive to buyers. At Baker Realty, we tell our sellers to remove half of the items in their drawers, cabinets, closets, and on desks, tables, and shelves.
Don't worry! You don't need to throw everything away or move it to your next home just yet. Box things up in storage containers or cardboard boxes and store them in the garage. Buyers will overlook a full and messy garage; they expect that the seller is storing items there before the home sells. Making the home look decluttered is one of the more important tasks a seller can do when preparing their home for the market.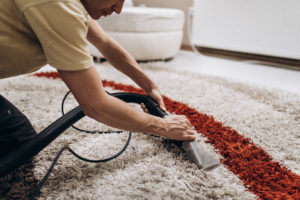 Make the Home Look Like a Model Home
Depersonalize the home by removing family photos, kids' artwork, personal trinkets, and collectible items. A few decorative pieces can remain, but the home shouldn't have things that reflect personal preferences that might distract buyers. What few items do remain for showings should be tasteful and muted as much as possible.
Clean the Home–Inside and Out
In addition to routine cleaning tasks, give some rooms a deep clean as well. Buyers pay very close attention to kitchens and bathrooms, so make sure to provide these rooms with a full top-to-bottom cleaning.
What should you do to the Kitchen, Bedrooms, Bathrooms, and Exterior? What finishing touches should you add?
Download the full article and the Checklist for Getting Your Home Ready for the Market by filling out the form below.